In this episode of The Nerdy Photographer Podcast, we are trying something a little different. I invited the voice of RULA-3RDS and frequent contributor to the podcast, Jen Clarke, to do a 'commentary track' with me. The stipulation was that it had to be a movie where a main character is a photographer.
Are you ready for some photographer movie commentary? I hope you are.
What film did we choose?
Jen and I are commenting on the Netflix original film, The Holiday Calendar.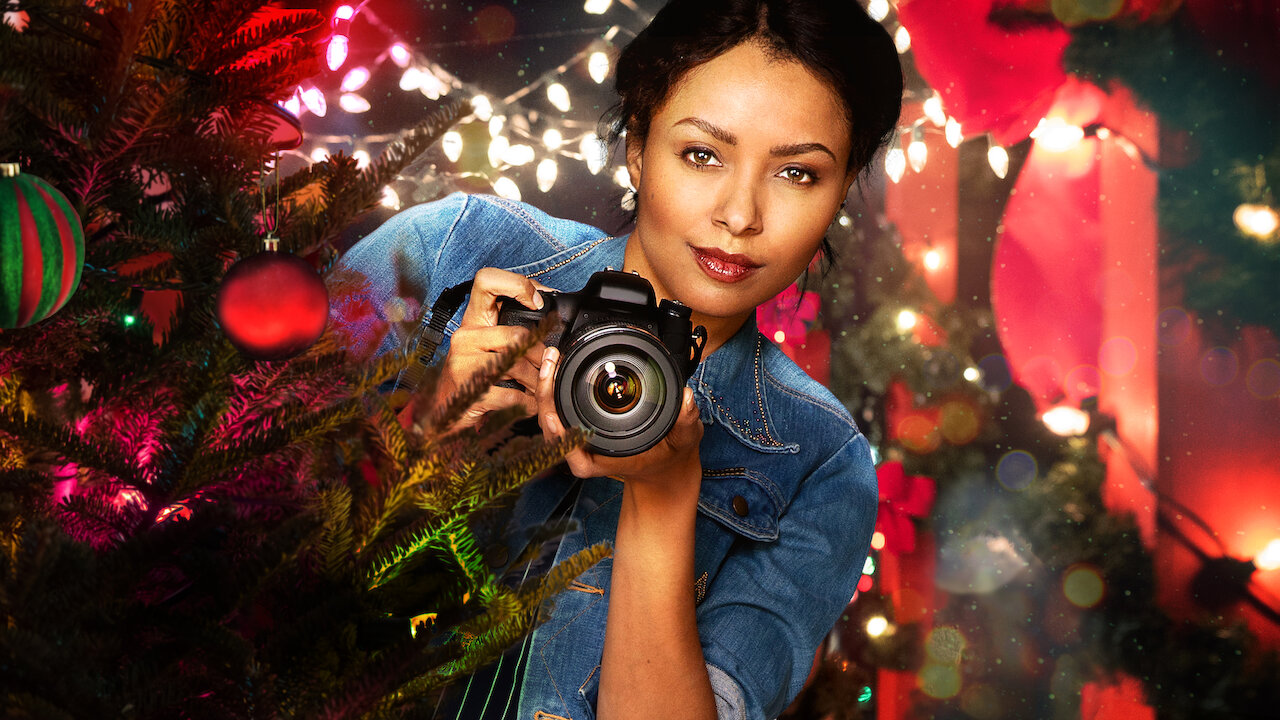 The movie stars a girl from Vampire Diaries, P-Diddy's adopted son, the guy who plays Spock on Star Trek: Discovery, and Ron Cephas Jones from This is Us as Gramps!
Netflix describes this film as "A talented photographer stuck in a dead-end job inherits an antique Advent calendar that may be predicting the future — and pointing her toward love."
Let me just say that Abby, the protagonist of the film, is CONSTANTLY saying she is working a 'dead end job' and claims to be a 'starving artist.'
First off, her 'dead end job' is at a photography studio. She complains about how she takes 'lots of passport photos' at this gig while she's taking holiday portraits of people.
As for the 'starving artist' part, Abby lives in an amazing loft apartment that looks like it was furnished by Joanna Gaines. How big is her apartment? Big enough to have a fully functioning photography studio in it – AND IT DOES! Strangely, she never uses it. And I am not talking about a 'studio' where she has to move all of her furniture out of the way to take pictures. Nope! It's just off to the side outside of her regular living space. We see it in the background, never to be used.
As for being a 'talented photographer', that is up to you to be the judge. But there's something for every photographer to laugh at – from the magical flash that goes off with no speedlights or other strobes around, to a moment that will drive proponents of dual card slots crazy!
There's a lot going on in this film, and that's not even beginning to touch the haunted Advent calendar at the center of the action.
You can also check out the trailer to get a better sense of the movie.
Want to Watch Along with Our Holiday Calendar Commentary?
Click here to head over to Netflix and watch the film along with our commentary track.
But be warned!!! This commentary is NSFW! I'm serious. I don't want you to tell me later that you were surprised by the coarse language.
Listen to this Episode and Subscribe to the Podcast!!!
Listen to this episode on Apple Podcasts, Spotify, Stitcher, or wherever you get your podcasts! Also, subscribe and leave a review for The Nerdy Photographer Podcast as well. Just that little bit of time on your part vastly improves our rankings and helps us reach more listeners.
You can also stream this episode using the player below.
#PhotographerMovies
I am sure you enjoyed hearing our commentary on Holiday Calendar, but what other photography related movies would you like to hear us comment on? I have started pulling together a list of more films, but I want to hear from YOU, the audience, as well.
Hit us up on Facebook, Instagram, or Twitter and use the hashtag #PhotographerMovies and let us know which films you would like to see us tackle.
About My Guest
Jen Clarke is a very, very funny lady.
Besides voicing RULA-3RDS on The Nerdy Photographer Podcast, and lending her comedic talents to numerous characters in our commercial spots, Jen is a regular performer at Go Comedy! Improv Theater in Ferndale, Michigan. She performs with such groups as Cougar Den, SNAFU, J/K, and Magna Carta.
Watch her perform in this recent comedy video:
What did you think of The Holiday Calendar?
Did you enjoy the movie? Did you enjoy laughing at it? We'd love to hear what you thought. Head over to our Facebook, Instagram, or Twitter and let us know!