Looking for the ultimate Black Friday and Cyber Monday list of discounts and deals for a great time for photographers and videographers for 2022? I do not generally toot my own horn, but you may have found it! Seriously, though, this time of year photographers have the opportunity to take advantage of deals and save some money. Who doesn't want to save money???
You may have read our list of great gift ideas for photographers already…no, well you can view that by clicking here. That's where you get ideas to give your family and friends on what to gift you for the holidays. This list is for great deals to give YOURSELF! Remember, these are investments in your business, and the return on investment is always greater when you spend less to begin with!
NOTE: Yes, this post includes affiliate links. That's how we keep the lights on!
Nerdy Photographer Resources
Save 25% on everything in the Nerdy Photographer store! Save on photography contract templates, questionnaires, workflow resources, unposed photography prompts, and more!
DEAL: 25% of anything in the store
CODE: BFNERD22
LINK TO SHOP: nerdyphotographer.com/shop
SALE DATES: Through November 30th
Flothemes Website Templates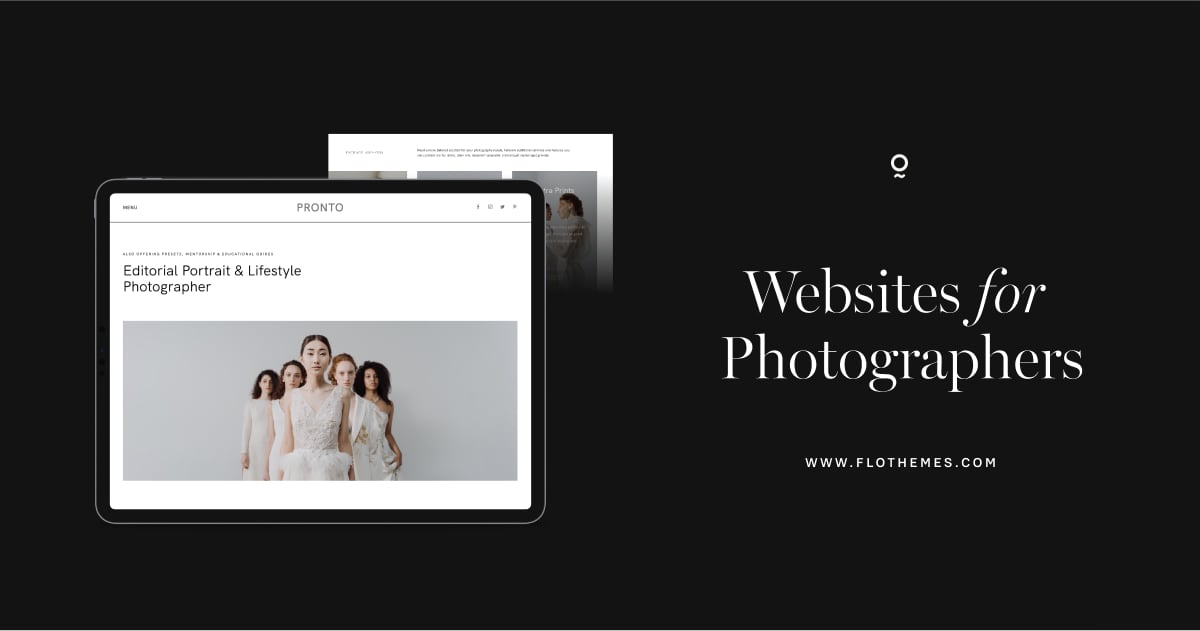 Having a fast loading website can make all the difference in booking your next client! Flothemes Pronto theme is a premium, fully customizable WordPress website for photographers, videographers and other creative business owners. 
Pronto All-in-One is based on a fully rebuilt, lightweight theme core, fully integrated with Gutenberg native options. With the subscription you also get a large library of ready-made blocks, page templates, starter sites and style kits, to be able to build a website fast and easily. Add your own branding, upload images, videos, gifs, animate elements, tweak the colors and fonts. You are in full control over how your website looks. No code skills required. 
Deal: Get two free months of Pronto All In One
Code: Slowvember
Link to Shop: flothemes.com/pronto-all-in-one
Sale Dates: November 15th – 30th
---
SiteGround Web Hosting
Want faster, more reliable web hosting? Save up to 75% on fast, safe web hosting with excellent support with SiteGround. I trust Siteground with all of my website hosting.
---
Luminar AI + Luminar NEO
Save big on Skylum Software's Luminar AI and their new offering, Luminar NEO. More news coming on November 17th when they announce the discounts. Use the code NERDYPHOTO and get an additional $10 off!
Sale Dates: November 17th – December 3rd
---
Squaremuse
Squaremuse offers premium website designs for creatives who use Squarespace as their website platform. These layouts are guaranteed to turn your website into the star of the show, attract dream clients, give your visitors a remarkable browsing experience and sell the heck out of your work. Whether you're looking for a full website template, a sales page add-ons, or single custom blocks and sections – the selection of Squarespace 7.1 and 7.1 designs is huge.
Deal: up to 40% off Design Kits, Sales Pages, and Custom Elements for Squarespace 7.1 & 7.0
Code:
40% off website design kits for Squarespace 7.1 & 7.0 – code: FRIDAY40,
35% off Sales Pages & Pricing Kits for Squarespace 7.1 & 7.0 – code: FRIDAY35,
25% off Custom Elements – code: FRIDAY25
Link to Shop: squaremuse.com/deals
Sale Dates: November 17th – 28th
---
Pixifi
Pixifi is a fantastic studio management software that will help you keep track of leads, expenses, contracts, and much more. They are having a big sale from November 21st through the 28th. Get 16 months of Pixifi for the price of 10 months!
Rawsie
Rawsie is the nerdiest software a photographer can get. It's a raw converter with a powerful image compression engine under the hood that will reduce your RAW file size by up to 5:1 while keeping dynamic range, full resolution and past edits applied in your Lightroom catalogs. Rawsie feels especially great for high volume photographers in weddings/events/portraits who would save on buying new HDD/SSD and enjoy faster remote photo storage upload/download speed and Lightroom performance.
Discount: $25 off any yearly or lifetime subscription with code NERDY25
Sale Dates: November 15th – December 10th
---
Fundy Designer
Fundy Designer can help you design albums, wall art, cards, and studio magazine in just minutes. Save big on the Fundy Designer Suite with their biggest sale of the year!
---
Black River Imaging
Save 15% Off Sitewide at Black River Imaging including frames and metal prints, albums, books, cards & more. Promo code 11SITE21. BRI is a full-service lab serving professional photographers and designers for nearly 50 years.
Offer: 15% Off Sitewide on all products. Promo code 11SITE21.
Sale Dates: November 26-29
---
Storytailor
Storytailor is a brand new blogging experience from StompSoftware. Designed to streamline your workflow and to ensure maximum engagement online, Storytailor is your one-stop blog marketing machine. With lightning-fast blog assembly and powerful SEO tools, your images have never worked harder for you.
Deal: 40% on your first year
Code: Applies automatically
Link to Shop: https://storytailorapps.com/storytailor-blog
Sale Dates: 25 – 30th November
SpaceSaver
SpaceSaver reduces the file size of your high-resolution JPG files while protecting the image quality of the photos, giving you optimized images to use both in print and online. This means shorter upload times, faster page loads, and more free space on your hard drives!
Deal: Save 40%
Code: BLACKFRIDAY
Link to Shop: https://www.getspacesaver.com/
Sale Dates: 25 – 30th November
StompSoftware
AlbumStomp is the best album design value in the industry, and when paired with AlbumPrufr for sharing and proofing, you can turn your album process into a major revenue generator. Design and proofing beautiful client albums; you won't find a better solution at a better price anywhere.
Deal: Save 40% when you purchase AlbumStomp and AlbumPrüfr
Code: Applies automatically
Link to Shop: https://stompsoftware.com/store
Sale Dates: 25 – 30th November
Embrace Presets
Inspired by the timeless beauty of film photography, the Embrace Presets Collections are made with you in mind. Meticulously tested on hundreds of photographs by some of the best photographers in the industry, the embrace collections of presets are now yours. Enjoy 50% off all Preset Collections.
Deal: 50% off All Presets
Code: BLACKFRIDAY
Link to Shop: https://embracepresets.com/
Sale Dates: 22-26th November
Embrace Presets – BOGO Sale
Embrace Presets offer a distinct look so you can pick the preset collection that most effortlessly matches your creative style. A cohesive look and skin tones that stay true to color. Speed up your workflow with minor to zero adjustments. Designed for Lightroom, ACR. Watch each image transform to your unique vision before your eyes. Work quicker, save time and exceed the expectations of your clients with Lightroom presets designed with your needs in mind.
Deal: Buy one Preset Collection, Get one Free!
Code: Applies automatically
Link to Shop: http://www.embracepresets.com/
Sale Dates: 8-12th November
The Roots Presets by Melli & Shayne
Celebrate this Black Friday with us and grab any of our presets / bundle packs for an insane 35% discount! Our presets have been built from the ground up to not only be unique, but to work in as many situations as possible. With a strong focus on creamy skin tones, your couples & subjects have never looked better. Whether a more light edit (Marula, Classic) or something more heavier (Kilimanjaro, Protea) – there's a balance for everyone and we encourage you to tweak these to your own liking.
Deal: 35% off any preset or bundle
Code: bf2021
Link to Shop: https://shop.melliandshayne.com
Sale Dates: 24 November-1 December
Cinema of Poetry Presets for Video
Kostas, the founder of Cinema of Poetry is a destination wedding filmmaker, based in Greece, available to film stories worldwide. His philosophy to create unique films that are representative of each couple is based on the things that matter the most: people, moments and emotions. He is winner of more than 70 top Awards from some of the most important professional associations and International Film Festivals.
Kostas has designed the Poetry LUTs specifically with wedding films in mind. These LUTs represent his signature color grading style. It is a collection of 12 finishing LUTs that will greatly enhance the color signature of your wedding videos, while speeding up your grading process. They work on all editing softwares that can use .cube files and are intended for Rec 709 footage for various cameras and shooting profiles.
Deal: 40% Off the Cinematic Poetry LUTs for Video
Code: Applies automatically
Link to Shop: https://cinemaofpoetry.com/product/poetry-luts-for-video-color-grading/
Sale Dates: 8-29 November
Cinema of Poetry Presets
Are you a wedding photographer looking to create a distinctive cinematic look for all your pictures? The Poetry Lightroom Presets have been specifically designed with wedding photographers in mind. They provide great flexibility to color grade your pictures in a variety of lighting conditions. It is a collection of 5 color and 2 black and white Adobe Lightroom cinematic Presets that will greatly enhance the color signature of your wedding pictures, while speeding up your grading process.
Deal: 40% Off the Poetry Lightroom Presets for Photographers
Code: Applies automatically
Link to Shop: https://cinemaofpoetry.com/product/poetry-lightroom-presets-wedding-photographers/
Sale Dates: 8-29 November
---
Have I missed any great Black Friday or Cyber Monday deals for photographers?
If you know of any discounts or deals, reach out to me on social media and let me know. The best places to reach me are Instagram or Twitter.