Here is the Nerdy Photographer's list of best gift ideas for photographers (and videographers) for 2022, because photographers are notoriously hard to buy gifts for.
And we also make finding a reasonably priced gift for a photographer an arduous task…just ask my wife! C'mon folks, I have seen plenty of gift guides for photographers that include cameras in the $2k + range as well as $500 + lenses. While that may be the budget for some people looking for a gift for the photographer in their life, it's certainly not the norm.
So, I've put together a list of items at a wide range of price points that are, most importantly, not specific to one camera brand! Also, you won't find any cheesy lens mugs OR LENS BALLS on this list.
Also, if you are looking to purchase a camera for yourself or a loved one, you can check out our Camera Buying Guide for some tips and advice in that regard.
Gifts for Photographers & Videographers Under $25
Gifts for Photographers & Videographers Under $50
Gifts for Photographers & Videographers Under $100
Gifts for Photographers & Videographers Under $250
---
Best Gift Ideas for Photographers
Editor's Note: Yes, this post contains affiliate links. I make a small percentage off these links if you purchase something, and that helps me keep making these lists and creating other content for this website!
---
Gifts Under $25
The Photographer's Playbook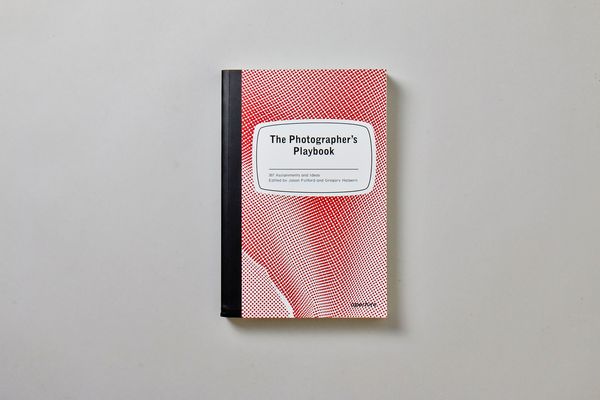 Sometimes the best way to learn is by doing. The Photographer's Playbook includes 307 assignments, ideas, and stories from photography professionals.
Nerdy Photographer T-Shirts and Artwork
Show off your love of photography with one of our many humorous t-shirts or decorate your studio with photography quote artwork.
The Lens Pen
EVERY photographer should be cleaning the glass on their lenses. The lens pen offers a compact cleaning option that is also environmentally friendly. No fluids or chemicals. No drips or leaks. And it's cheap and will fit in every photographer's camera bag!
Microfiber Wipes
You can never have enough of them!! For cleaning off pretty much anything. Makes sure you don't leave any scratches!
Manfrotto Mini Tripod
Photographers can use a mini tripod for low-angle photos or to steady a mirrorless camera. You can even use them to hold a phone, speedlights, or even a video light!
---
Gifts Under $50
Nerdy Photographer Workflow Resources
Workflow Resources
Faster Memory Cards
Professional grade memory cards are never something you stop needing as a photographer or videographer. Get these high speed professional grade memory cards.
Nerdy Photographer Contracts
Photography Contract Templates
Looking for photography contract templates? You have come to the right place.
If you are charging money for your photography services, you should always have a photography contract! Contracts protect you and your clients. Without a contract, there is no binding agreement on what either party can do with the photos, payment terms, and what happens in the event that someone is unable to hold up their part of the agreement.
You don't want to end up having to go to court without a contract to back you up, do you?
It is always best to have a great contract and not need it than to find yourself in a position where you really could have used a contract and don't have one.
We offer photography contract templates for wedding, portrait, and event photography as well as contract templates for agreements between your business and associate photographers/second shooters.
RogueGels Filter Kit
Add dynamic, dramatic color to your images with this set of 20 color filters.
Who Shot Rock 'n Roll
I love this book! It's inspiring on so many levels – even if you aren't a music photographer!
Ultra Slim Portable Power Bank
4 Output Ports!
Power for Days: Step into the upper echelon of battery capacity with a muscled 26,800mAh, fully capable of recharging your phone or tablet several times over.
Charge via Micro USB, USB C, or Lightning Connection
One for All: Compatibility at its finest, not only ready to charge almost all USB powered devices including laptops, tablets, smartphones and more, but also portable charger can charged by all the cables.
Ultra Slim Design!
---
Gifts Under $100
Luminar AI
Think of Luminar as Photolemur's older, more powerful brother. It gives you a full suite of AI powered photo enhancement tools as well as helping you manage your photo catalogue! All for under $90 – no subscriptions! Use code NERDYPHOTO at checkout and save $10!
Godox R1 LED Video/Photo/Phone Light
Remember the $300 Profoto smart phone flash? Well, Godox has come in with their much less expensive version that even packs a few extra features!
Ultra-wide color temperture range: 2500-8500k, accurate brightness adjustment from 0-100%.
14 common scene mode simulation effects, great for live broadcast, video, etc. including lights that beat with music, clapping or knocking.
Built-in Lithium Battery, 90 mins long battery duration with 100% brightness, USB Type-C charging.
Compatible with the magnetic modifiers (sold separately) to make more dramatic lighting effects. Built-in Magnets allow quick installation on metals surface.
LED Light Wand
Know someone who wants to get into light painting? Or maybe the need a portable constant light source? Or perhaps you want a light for both photography and video. These LED light wands pack a lot of flexbility:
Remote Control: With the wireless remote control, you can adjust the brightness of wand within 23 feet. That would be very convenience when taking pictures with far distance.
30 Levels of Brightness: With 3200K-5600K natural color temperature, 9 color modes, and super bright function with a maximum of 1000 lumens, the brightness and color temperature of this light wand can satisfy many of your photography and videography lighting needs.
It can be used on the tripod or light stand.
120 minute operating time at full power. Much longer at lower intensity.
I have two of these lights which I use for lighting still lifes, photo shoots on location at night, and for lighting videos.
Peak Design Camera Strap
2 Terabyte Portable Hard Drive
Storage is cheap these days. So there is no excuse for not having enough space! Grab this Seagate 2 terabyte portable hard drive for $59 or double that (4 TERABYTES) for under $100
---
Gifts Under $250
Osmo Pocket Camera
A great addition for any content creator. This tiny gimbal camera records in 4K at 60FPS or HD at 120FPS. It also can capture 12 megapixel RAW still images. When using the app that accompanies the camera, you can create time-lapse, motion-lapse, panorama, and face tracking videos.
You can also connect the camera to your phone and use it for live streaming or creating your next TikTok video!
I have this camera and I love it for behind the scenes videos that I can then use on social media.
Peak Design Everyday Backpack
This large waterproof backpack can hold a full size DSLR plus 3-4 lenses, plus plenty of pockets for memory cards, filters, and other accessories!
Holdfast Money Maker Double Camera Harness
Super stylish leather dual camera straps. I've had my Money Maker for 8 years and it has not only saved my back, but I get TONS of compliments on it.
The ONA Bowery Camera Bag
Reminiscent of a Coach messenger bag, the ONA Bowery is super stylish and is available in brown or black.
Flashpoint Zoom R2 Round Flash
No list of best gift ideas for photographers would be complete without a great speedlight! The Flashpoint versions of the Godox V1 is a powerful, versatile flash that
What do you think of this list of best gift ideas for photographers and videographers?
Is there something you'd love to have as a photographer you think should be on here? Leave a comment and let me know. I'll keep updating it. Here's wishing you a a happy holiday season and a prosperous year!